Certified Protection
Filters >95% of airborne particles¹. 
Filters >99.9% of airborne bacteria² and viruses³.

Soft Nose Cushion
Adapts to nose contour
for added comfort and
facial fit.

3 Sizes for the Family
Available in S, M, and L size
to protect the whole family.
Plush and Comfortable
Comfortable to wear and made
from latex-free materials.
Stretchable Ear Loops
Designed for comfort with
easy-to-wear ear loops.

Flat-fold Design
Easy and convenient
to carry and store.
Premium Protection for the Family
The right mask size is essential in creating a well-sealed barrier against harmful airborne pollutants in today's urban environment. That's why the AIR⁺ KN95 range of disposable face masks comes in 3 sizes specially designed to fit your family. Tested on Asian facial profiles, the AIR⁺ KN95 Mask is ergonomically designed to securely fit adult faces as well as the smaller faces of children as young as 7 years old, to provide well-sealed protection.
Designed for superior protection and comfort, the AIR⁺ KN95 Mask comes with a mask clip for secure facial seal and fitted with a soft nose cushion and stretchable ear loops for a comfortable wearing experience. The AIR⁺ KN95 Mask is tested and certified to the GB2626-2019 KN95 standard.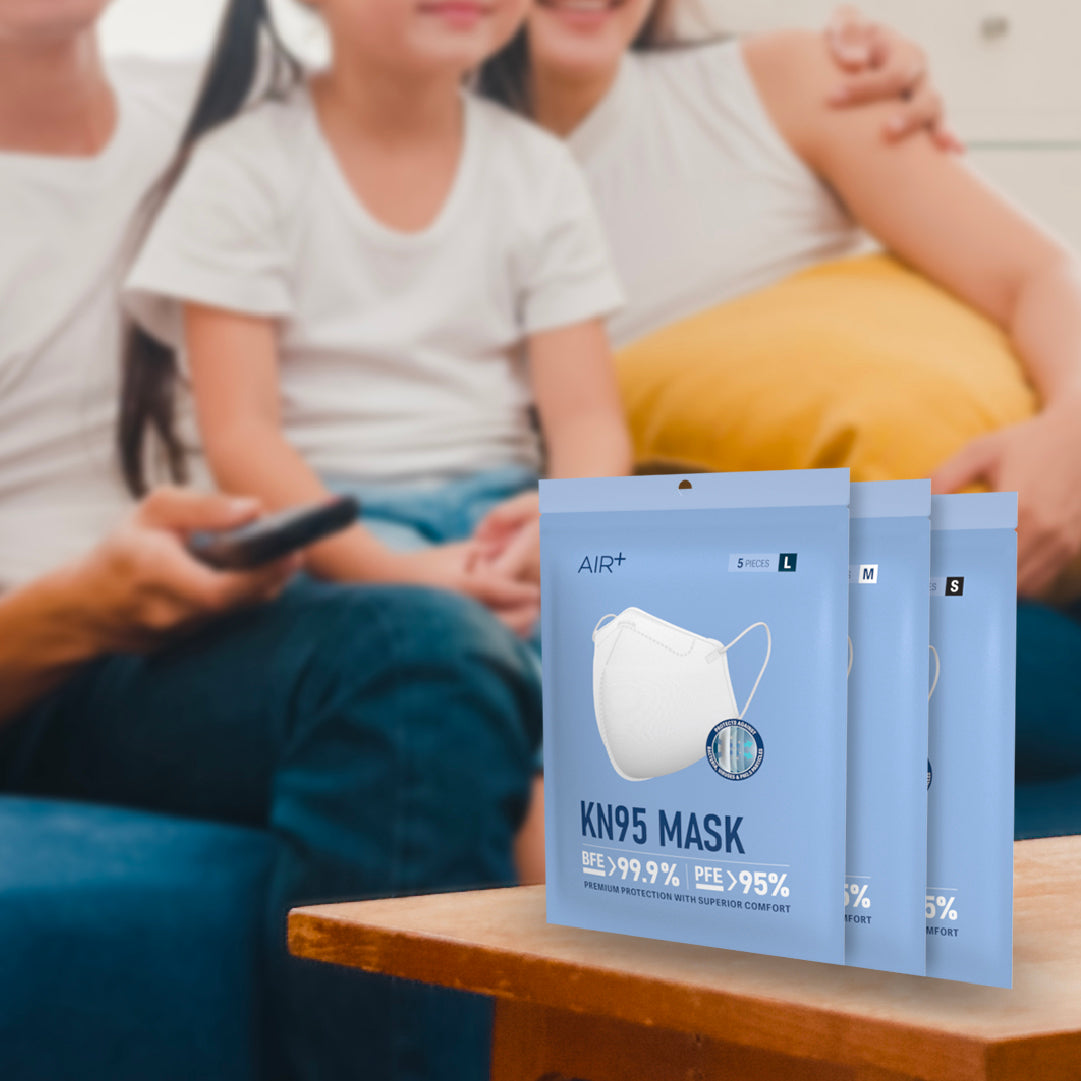 Come in 3 Sizes
To protect the whole family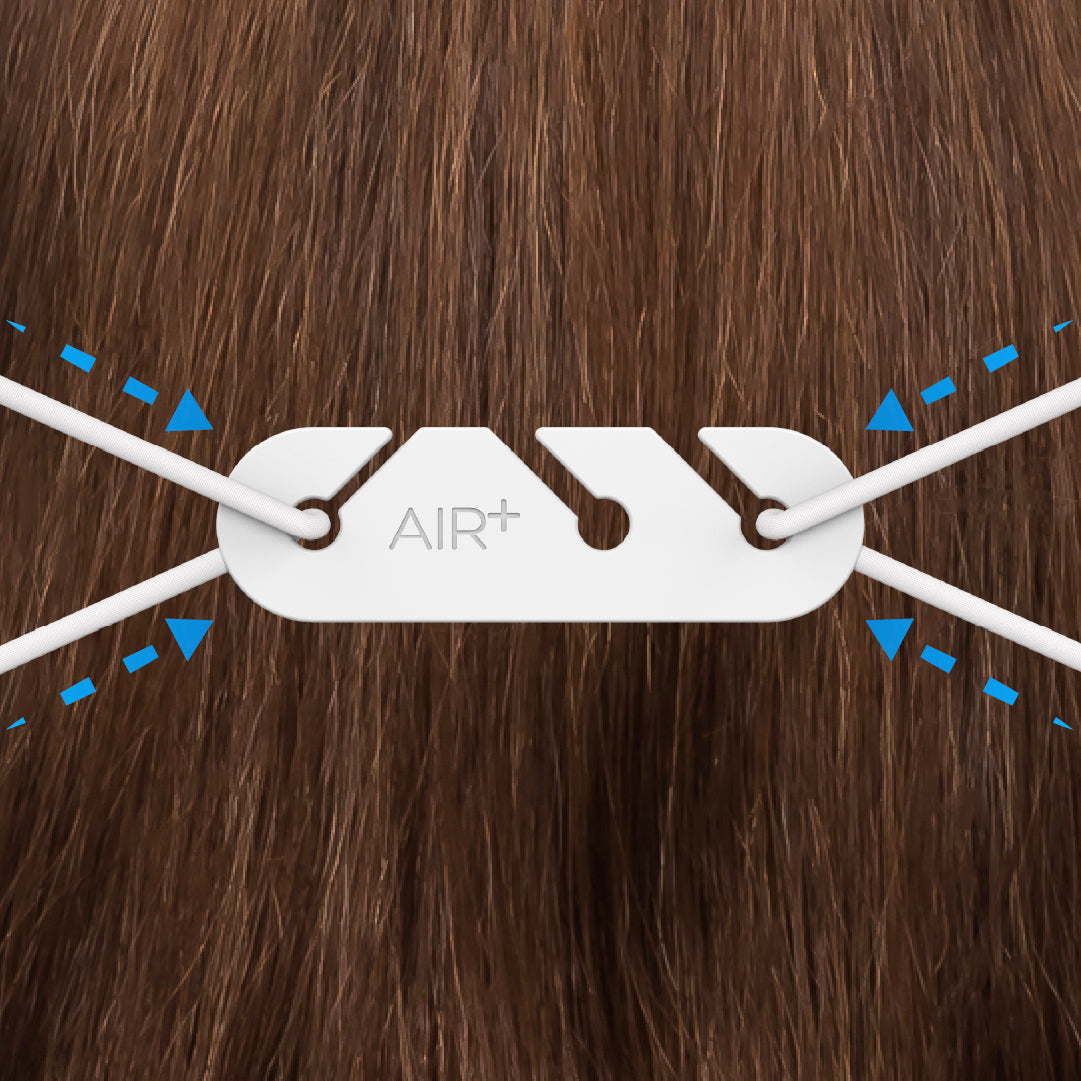 Attach Mask Clip
For a secure facial seal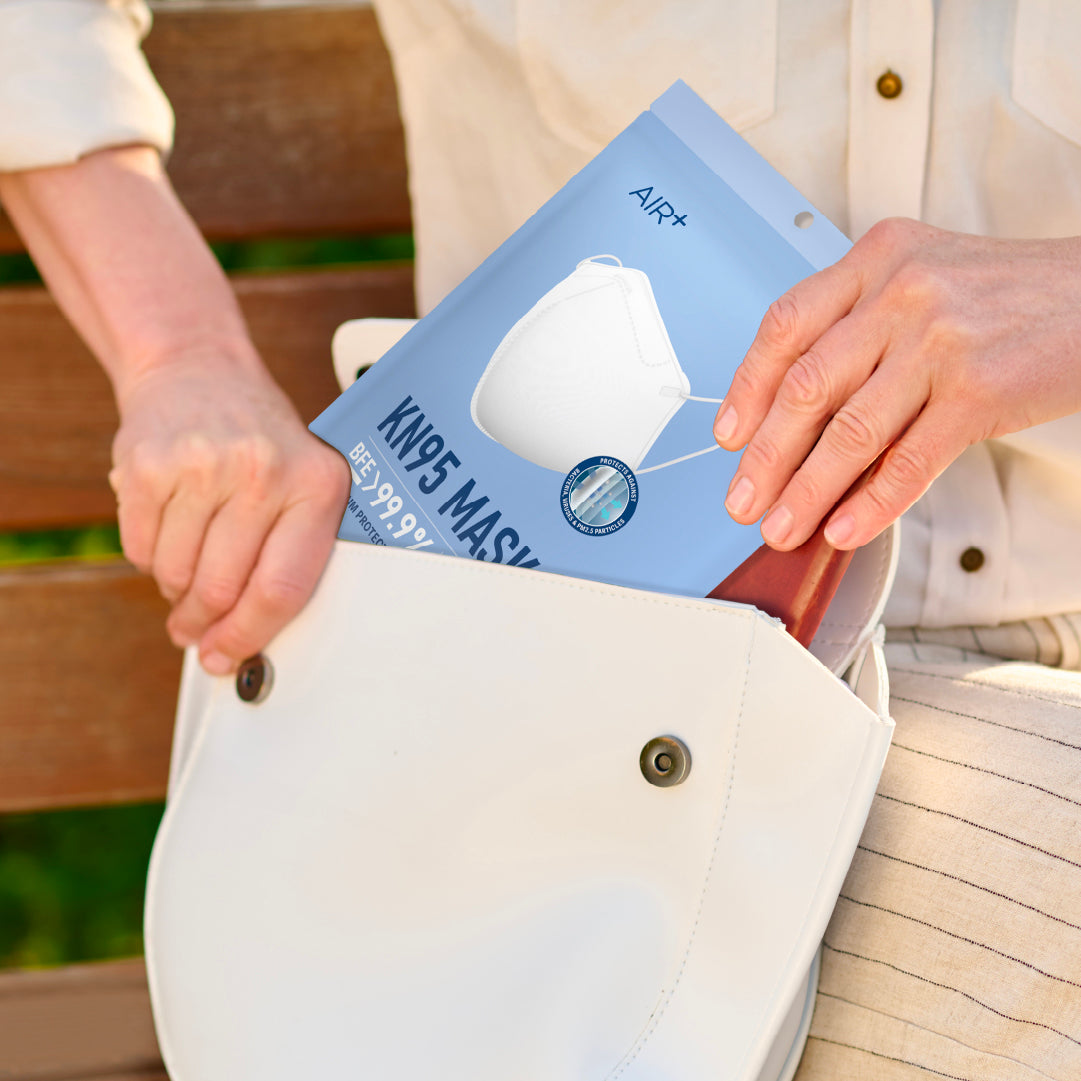 Easy and Convenient
Fits easily in your bag

Size Check
Look at the mask label to confirm mask size.

Open & Fit
Open the mask and place over face to check for the right fit.

Wear Mask
Cover nose and mouth with open mask.
Attach Mask Clip
Pull each ear loop behind the head and attach mask clip to secure the position.

Adjust Mask
Press on nose cushion against nose bridge to ensure good seal around the face.

Blow to Check
If air leaks from edges, re-adjust mask and straps to correct fit.
 
Size
S
M
L
Size Guide
(Measure from your chin to eye level for the closest size)
86mm - 96mm
97mm - 118mm
119mm and above
Recommended Use
Children aged 7 years and above
Adults and children aged 7 years and above
Certification
GB2626-2019 KN95
Certified protection against airborne particles.
Performance Test

>95% Particulate Filtration Efficiency
1 KN95 Approval, following GB2626-2019 KN95.

>99.9% Bacterial Filtration Efficiency
2 Tested by Nelson Labs following ASTM F2101.

>99.9% Viral Filtration Efficiency
3 Tested by Nelson Labs following ASTM F2101.

Quantity
Available in 5-piece pack.
Duration of use
For single use only. Up to 8 hours continuously, or until filter medium becomes difficult to breathe through.